Henri-Chapelle American Cemetery
A view on arcs of headstones and a view on the countryside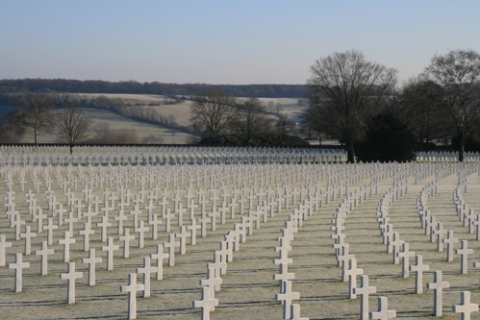 Cemetery in the rolling Belgian countryside
This cemetery is located near the town of Hendrikkapelle (Henri-Chapelle in French). It lies along the road from Liege to Aachen. This war cemetery was established in 1944 by the American army. This cemetery offers a final resting place for 7992 American soldiers who were killed during the Second World War.
Many were killed during the Ardennes Offensive (Battle of the Bulge), the conquest of the city of Aachen and the Battle of Hurtgen Forest (Schlacht im Hürtgenwald). A large number of the victims was never found. In this cemetery is a wall with the names of 450 missing. Names with a rosette indicates that the body recovered was recovered afterwards and was subsequently added.
On this memorial site is a chapel and a visitor centre present. Large maps of the liberation of Western Europe showing the advance of the gealieerden. A map of the battles in the region is also present.
The western portion of the site, opposite the entrance, offers a fine vantage point over the now peaceful Belgian hills. This rural area is the Land of Herve. Approximately 20 km away is a similar military cemetery with the name "World War II Netherlands American Cemetery and Memorial". This cemetery is sometimes called the American cemetery in Margraten.
South of Liege is another American cemetery of the American Battle Monuments Commission, which is officially called "Ardennes American Cemetery and Memorial".
This cemetery is daily open from 09.00 to 17.00 hours. Note, closed December 25 and January 1. At the visitor center an employee can help you with questions. Toilets are available on site and free parking.